Full offer
Wellness Hotel Skalka offers: relaxing and activating body treatments with a focus on whole body, not only from physiological, but also aesthetic side.
The new part of the Wellness
Visit our new wellness. It includes: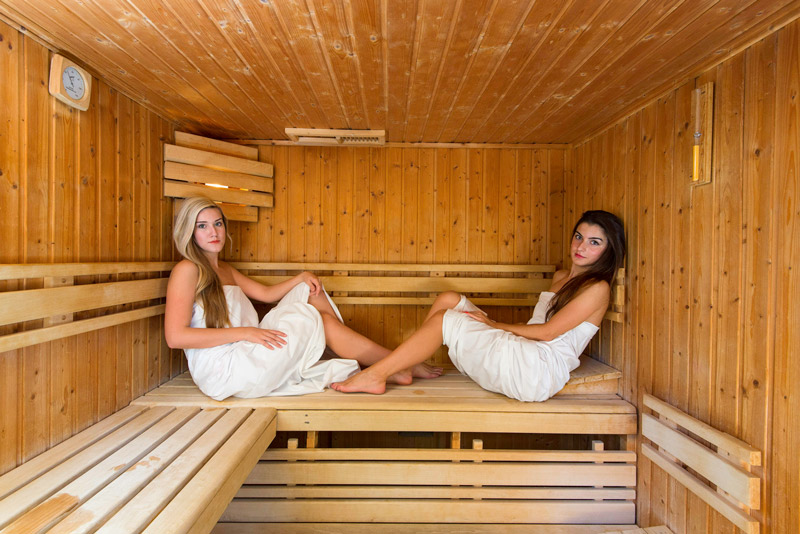 Finnish sauna
Classic hot sauna, its effect is the relaxation of muscles of locomotive apparatus with total relaxation. High air temperature increases the perspiration of the body and thus the elimination of toxic substances and it strengthens immunity.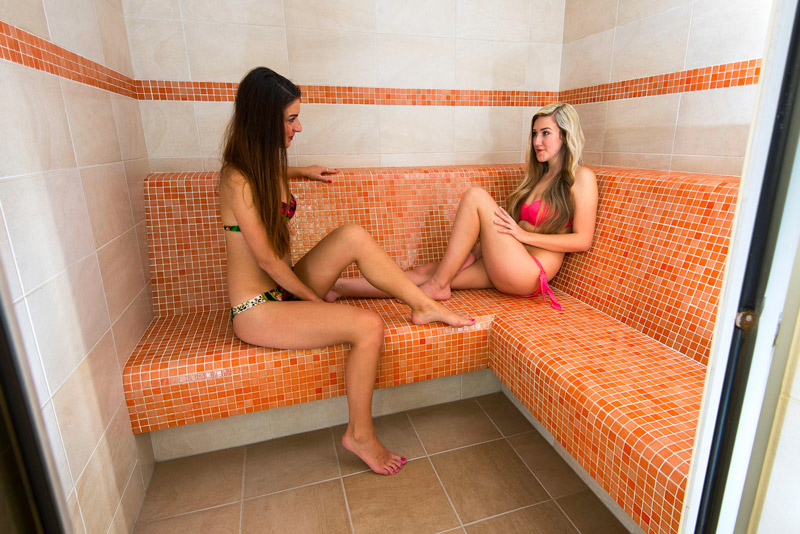 Arabic sauna
Steam bath combined with aromatherapy, in which the use of fragrance compositions with various beneficial effects on the respiratory, musculoskeletal and nervous systems.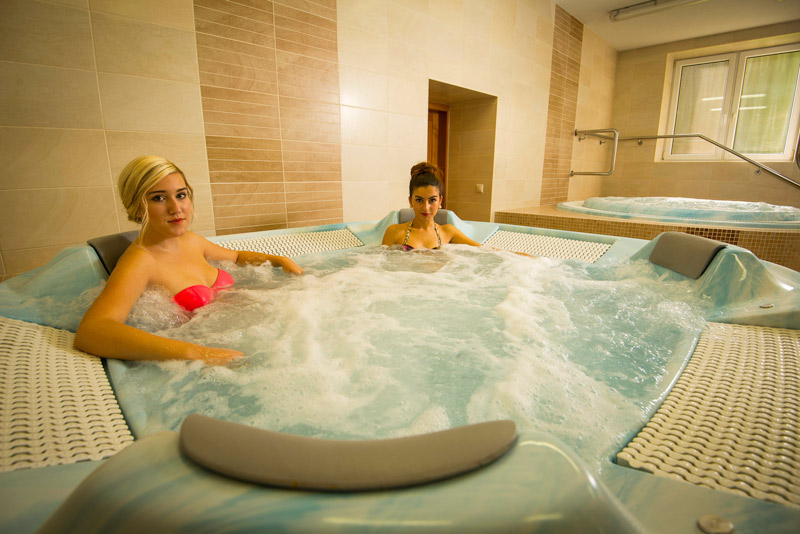 Whirlpool
Massage whirlpool water with total body application. The water has a constant temperature of 35-37 °C.
new

Local cryotherapy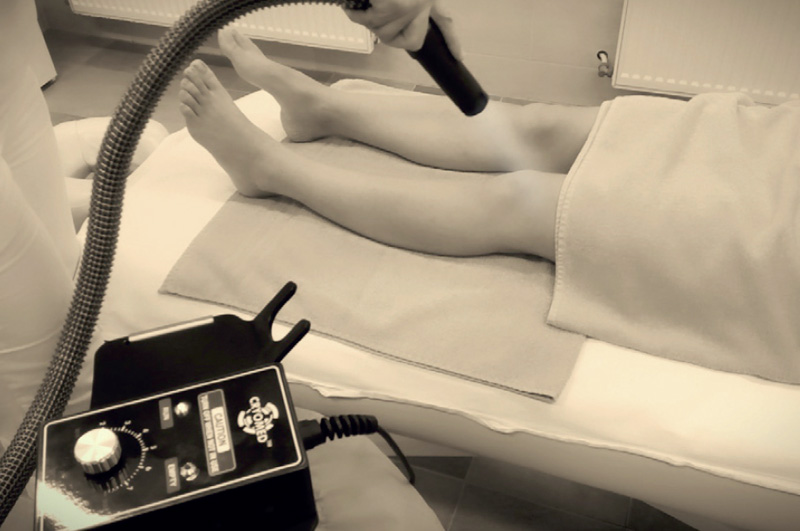 1 aplikácia:  3 – 5 min podľa odporúčania lekára                                       
Procedúra prebieha podávaním plynného dusíka vo vzdialenosti 10 – 15 cm od  postihnutého miesta pri teplote -100 až -110 ᵒC. Podávanie chladu výrazne napomáha pri liečbe zdĺhavých ochorení pohybového aparátu.
Indikácie:
veľmi účinná pri  poškodení tkanív
pri liečení kontúzií a vzniknutých krvných podliatin
natiahnutí, natrhnutí, roztrhnutí svalov a šliach
poškodenie väzivového aparátu •ohraničenie zápalového procesu
zmenšenie opuchu a bolesti
pri degeneratívnom a reumatickom ochorení kĺbov
pozitívne ovplyvňuje priebeh ochorení ako sú lupienka a atopický ekzém
urýchľuje hojenie pokožky a pôsobí proti bolesti po operáciách
Kontraindikácie:
alergia na chlad
nádorové ochorenia pokožky
otvorené rany
deti do 12 rokov
Pre zlepšenie stavu sa odporúča vybrať minimálne 5 aplikácii  lokálnej kryoterapie.
See price on price list.
Massages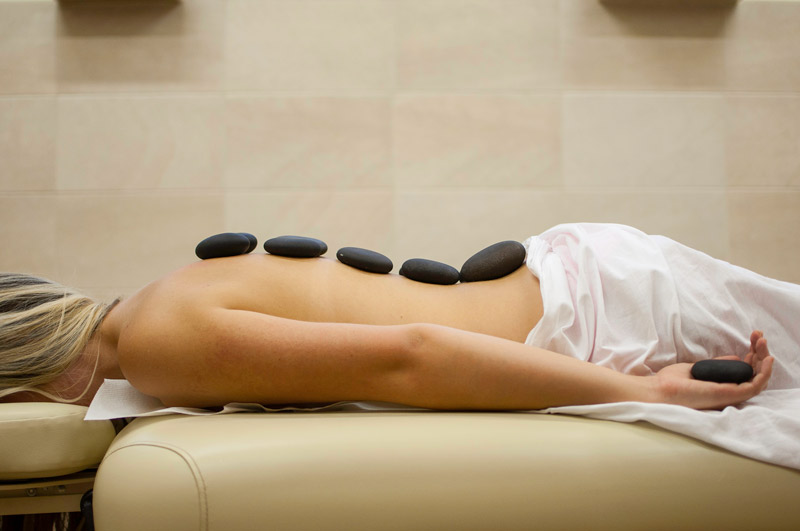 hot stone massage
relaxing face massage
aromatherapy massage
reflex foot massage
sport massage
honey massage
Jade Bade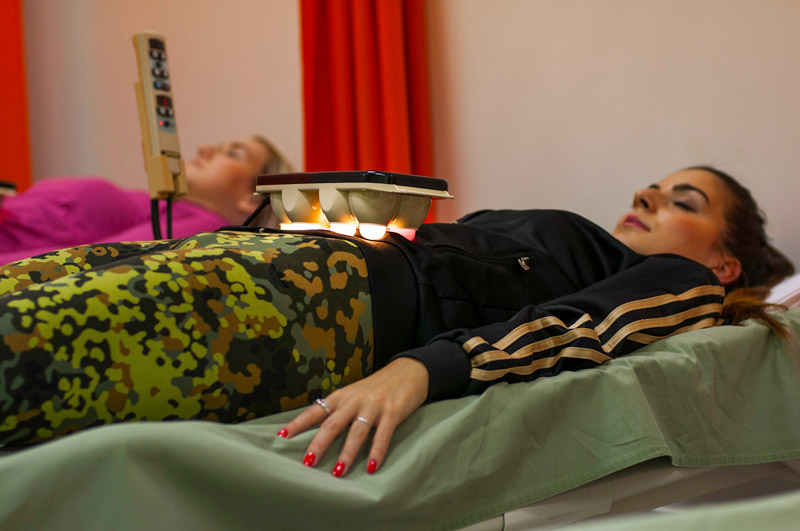 Thermo Acupressure Jade Massager Bed combines a number of alternative medical practices at the same time: light therapy, heat, massage and acupressure. It is recommended for musculoskeletal disorders, spine, rheumatic problems in the treatment of internal inflammations, skin diseases (psoriasis, eczema, brown spots, warts), osteoporosis, asthma, allergies, chronic colds, in overweight, depression, and improves eyesight.
increases physical well-being
improves immunity, flushes toxins from the body, improves blood circulation
vitamin D helps the absorption into the body
accelerates muscle and joint rehabilitation after injury
Magnetotherapy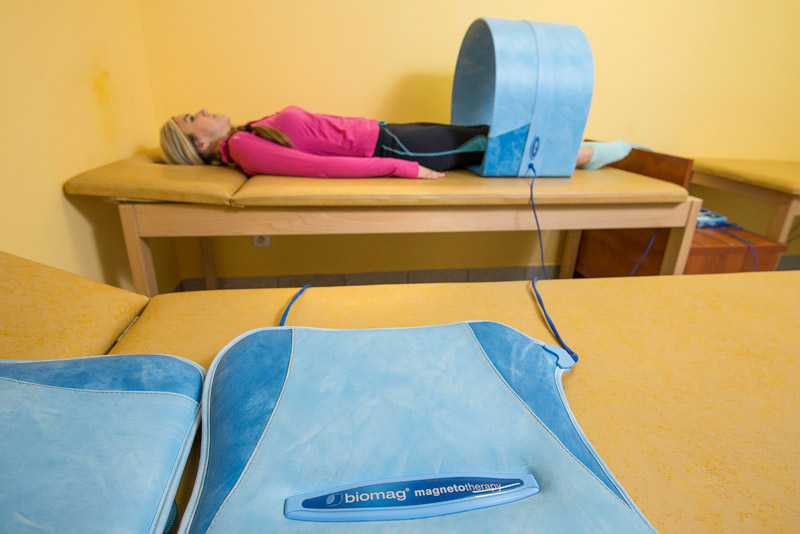 Due to the applied magnetic field / pulse or permanent / there are positive changes in biological tissues, which can be used to eliminate various health problems.
Magnetotherapy is very effective in drawing out pain and relieving stiffness as when the body comes into contact with magnets the magnetic waves pass through the tissues and induce secondary currents which produce impacting heats thus reducing pains and swellings. It also revives and promotes the growth of cells and increases the number of healthy red blood corpuscles. The red corpuscles contain hemoglobin which contains iron. The magnets influence the iron in the blood through which it reaches every part of the body removing calcium, cholesterol and other deposits- it cleans, purifies and ionizes the blood, lonised blood flows easily thus there is no clotting, eases the activity of the heart and normalizes blood pressure. The secretion of hormones is also regulated and this improves the luster of the skin.
Fitness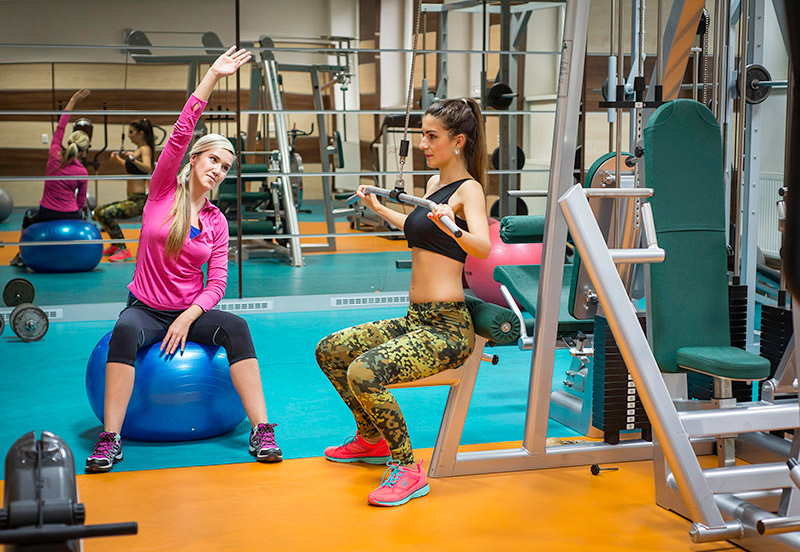 Fitness of our hotel offers a fitness and aerobic equipment with coverage of all the muscles of the body.
There are Spinning bicycles, rowing trainer, treadmill, elliptical trainer (Orbitrec), multipurpose gym, single-handed set of dumbbells and multipres. Includes fitness balls, audio and video technologies.
strengthens the overall health and vitality of the organism
facilitates faster releasing of harmful substances in the body
regulates fat level in blood
improves overall immunity of the body
Fitness can by used only by accomodated guests.
Oxygen Therapy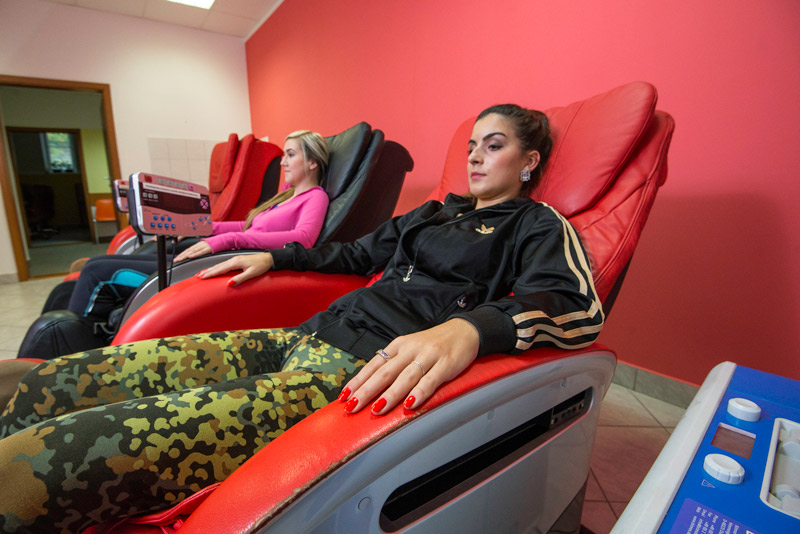 Inhalation of humidified oxygen, which raises the overall feeling of calm, improves physical and mental fitness and reduces the adverse effects of environmental conditions on health.
improves physical and mental condition, helps to overcome tiredness and exhaustion
slows down the process of physical and mental aging
increases immunity against virus disease
suitable for the treatment of respiratory diseases, asthma, bronchitis, the treatment of diseases of the heart and circulatory system
improves muscle performance and brain and improves memory
Cryotherapy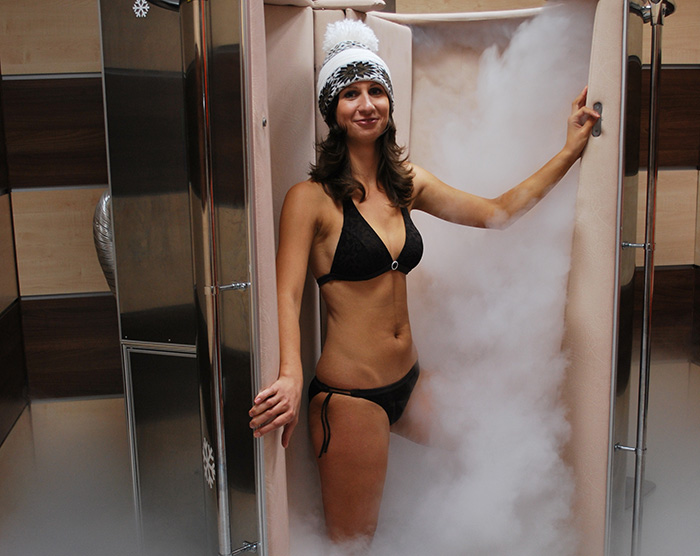 Suchá procedúra, pri ktorej je telo vystavené extrémne nízkym teplotám. Dochádza k zvýšeniu prekrvenia, tkanivá sa zásobia kyslíkom, aktivuje sa metabolizmus a z tela sa odplavia škodliviny lymfatickou a krvnou cestou.
Kryoterapia je veľmi účinná pri liečbe kožných ochorení – lupienka, redukuje strie a celulitídu, je vhodná pri redukcii hmotnosti, na posilnenie imunity, pri depresiách, urýchľuje regeneráciu a rekonvalescenciu organizmu, je vhodná pre športovcov a všetkých, ktorí podávajú fyzicky náročné výkony, pozitívne vplýva pri zápalových ochoreniach pohybového systému, pri bolestiach chrbtice a kĺbov, pri reumatických ochoreniach, migrénach i sekundárnej osteoporóze.
Dĺžka trvania procedúry: 2 – 3 min
Prevádzková doba procedúry:
párny týždeň - STREDA o 15:00 / SOBOTA o 13:00
nepárny týždeň - PONDELOK o 15:00 / STREDA o 15:00
Nutná objednávka vopred na tel. čísle 0911 57 57 33
Infrared Cabins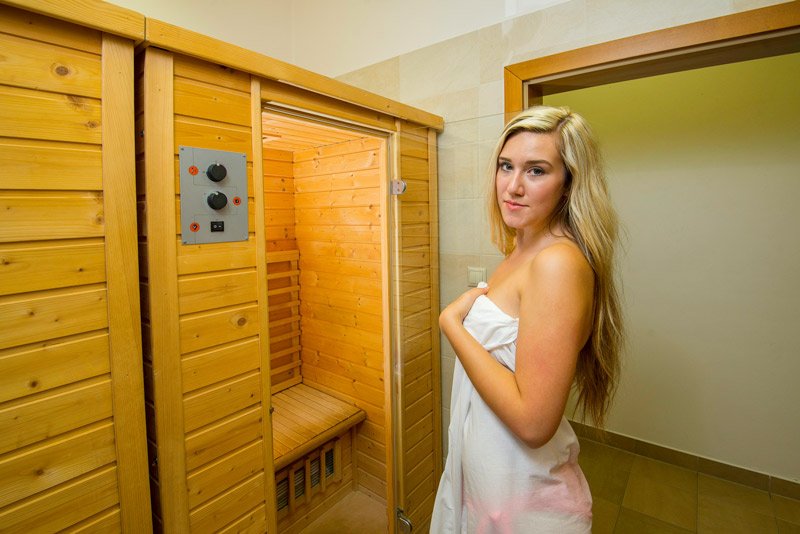 Infrared cabin helps our body to deliver much-needed infra-red heat that restores lost energy. The rays penetrate to a depth of 5 cm. Our body responds by increasing the speed of blood circulation, improves blood circulation in all areas of the body and thereby improves cardiac output and also speeds up metabolism and detoxification of cells.
Bioptron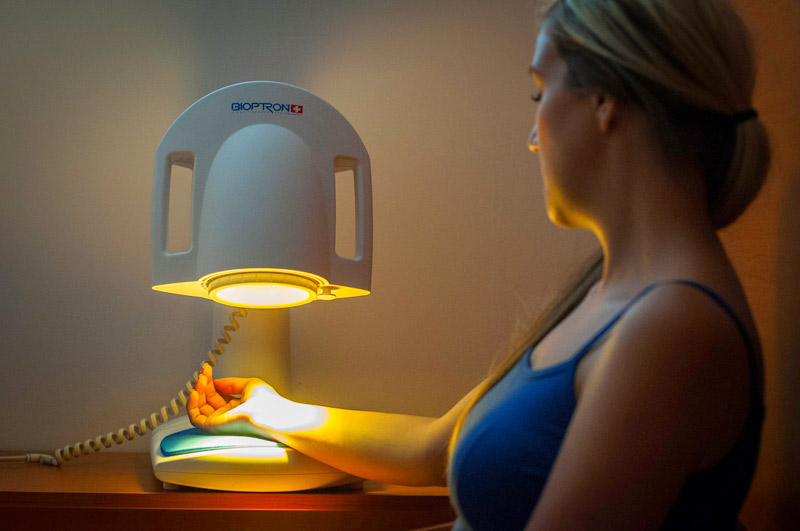 Harmonizuje metabolické procesy, pôsobí biostimulačne tým, že ovplyvňuje imunitný systém, má regeneračný účinok a na tomto princípe priaznivo pôsobí na celý organizmus.
tlmí bolesť a znižuje jej intenzitu
povzbudzuje regeneračné a liečivé procesy celého organizmu
podporuje hojenie rán
stomatologické ťažkosti, postihnutie sliznice dutiny ústnej a nosnej
gynekologické problémy, tehotenstvo, pôrod
postihnutie pohybového aparátu, bolestivé stavy
kožné (dermatologické) problémy
potláča bolesti, pôsobí protizápalovo
posilňuje imunitu a zlepšuje stav pri alergiách
Pri tejto procedúre nie sú doposiaľ známe akékoľvek kontraindikácie.
Odporúčaná dĺžka procedúry 5 – 15 minút
Solar meadows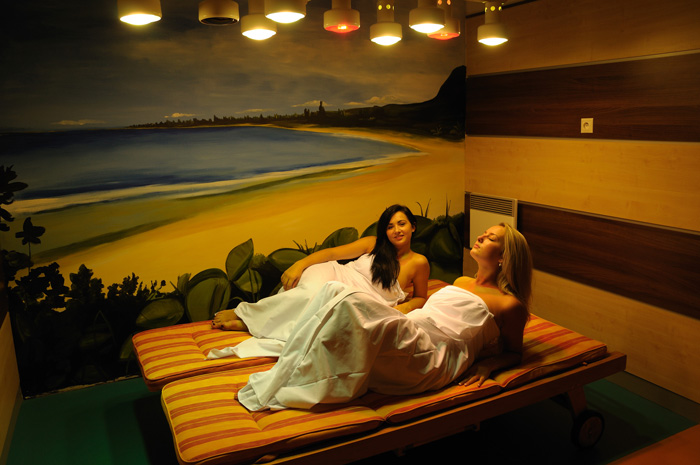 These revitalizing sun beds have spectral range as natural sunlight that humane body is used to. Emitters in addition to medium and short infrared rays, emit colored light, UVA and medium UVB radiation. Doses of radiation are set exactly not to harm body, but rather benefit.
strengthen the overall health and vitality
engorge the skin with blood, improve the function of autonomic nervous system
enhance blood circulation and blood formation
promote a faster degradation of harmful substances in the body
improve the immune system
Rašelinový zábal
Rašelina obsahuje veľké množstvo živín, minerálov a prírodných stopových prvkov, ktoré sa vstrebávajú cez ľudskú pokožku. Je bohatá na organické látky, najmä na kyselinu humínovú, enzýmy, vosky a triesloviny.
prekrvuje a zlepšuje činnosť svalstva a kĺbov
podporuje rýchlejšie vstrebávanie krvných výronov
zlepšuje hojenie kožných ekzémov
posilňuje imunitu
Senný zábal
Jednorazové senné zábaly obsahujú iba fermentované prírodné seno bez herbicídov z odľahlých a nehnojených lúk z Rakúska. Obsahujú éterické oleje, triesloviny, mliečne kyseliny, provitamín A a vitamín D. Podporujú prekrvenie a slúžia ako podnet pri začatí detoxikácii organizmu.
Používa sa ako lokálna tepelná terapia a ako podporný prostriedok pri :
chronických ochoreniach pohybového systému
degeneratívnych ochoreniach kĺbov (svalový a kĺbny reumatizmus)
artróze, ischiase
podpore detoxikácie organizmu
Aerosolová inhalácia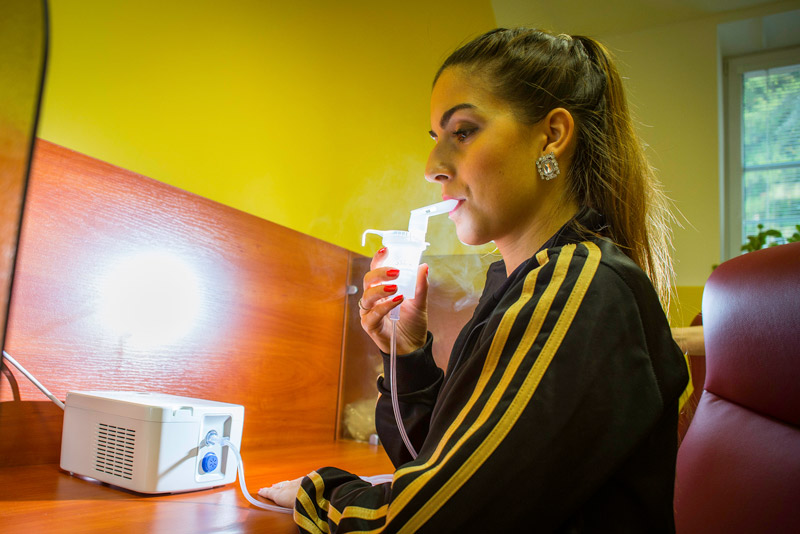 Liečebná inhalácia je zámerné aktívne vdychovanie plynov, pár alebo hmlovín pod nezmeneným alebo umelo zmeneným tlakom s cieľom prevencie a terapie chorôb dýchacích ciest. Na aplikáciu sa používajú inhalátory.
choroby dýchacích ciest
ochorenia CNS - poruchy prekrvenia mozgu, akútne prejavy ischémie
prevencia infarktu myokardu