Spa treatments
The Skalka Hotel provides following spa treatments: relaxing and body-activating procedures that focus on the entire body, physiologically and aesthetically.
Procedures must be booked in advance at the telephone number +421 911 57 57 33 or +421 41 5175 100.
Come and enjoy our new spa. You will have the opportunity to try the following treatments: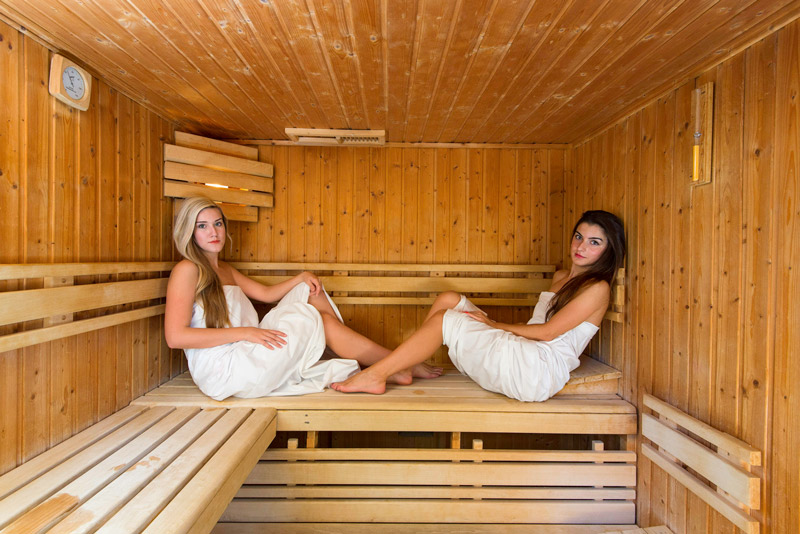 Finnish sauna
A traditional hot sauna that relaxes muscles as well as the entire body. The elevated temperature increases perspiration which enables the body to get rid of all the toxins as well as to boost its immune system.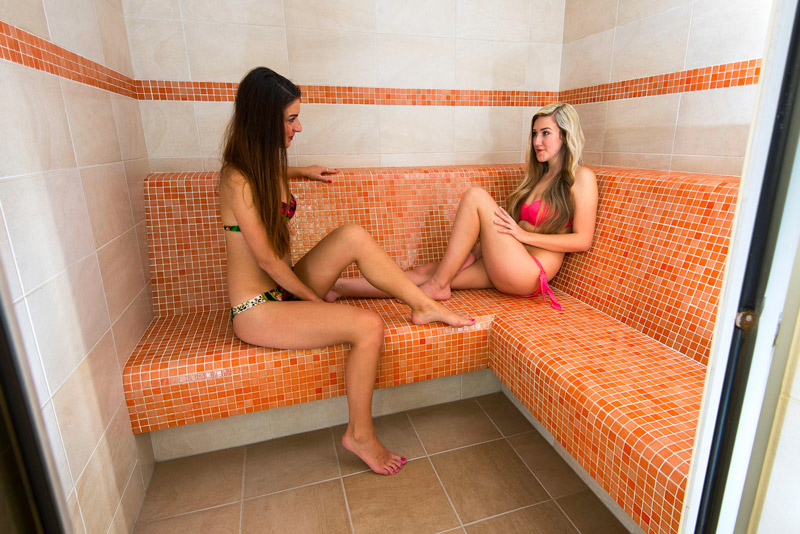 Turkish bath
The Turkish bath is basically a steam bath combined with aromatherapy, using various aroma compounds to benefit the respiratory, musculoskeletal and nervous system.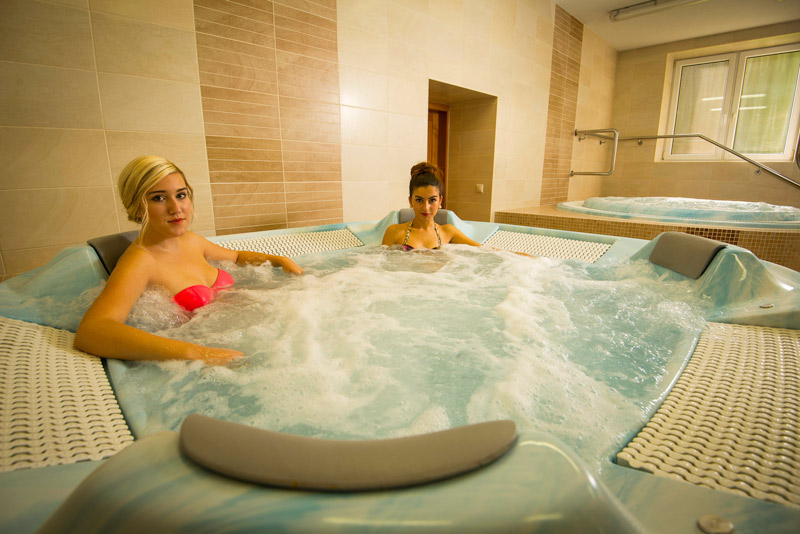 Jacuzzi
Water massage for the entire body. The water has a constant temperature of 35-37 °C.
Opening hours for wellness
Monday – Friday

7:30 – 16:00

Saturday

8:00 – 18:00

Sunday

closed
We provide wellness procedures only to contractual partners during July / August.
new

Local cryotherapy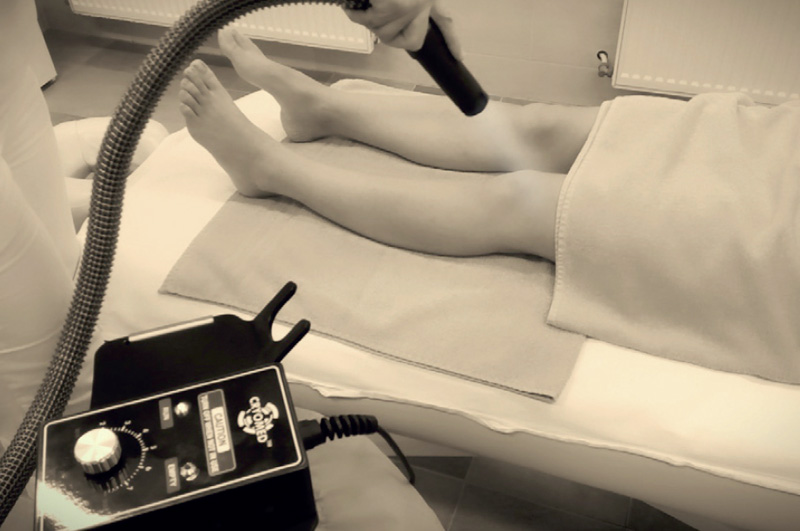 1 session: 3 up to 5 minutes (only doctor-recommended)
This type of therapy consists of applying nitrogen gas on the affected body part from a distance of 10 to 15 cm. The temperature is approximately -100 to -110 °C. This icing method is helpful during the treatment of long-term musculoskeletal disorders.
Indications:
an effective method for damaged tissues healing
great for cerebral contusion and bruises
perfect for strained, torn and ripped muscles and tendons
ligament injuries
delimitation of the inflammatory process
reduces swelling and pain
suitable for degenerative and rheumatic joint diseases
positively affects psoriasis and atopic dermatitis patients
stimulates the process of skin healing and can be used as painkiller after surgeries
Contraindications:
cold urticaria
skin cancer
open wounds
children under the age of 12
To achieve progress, at least 5 sessions of local cryotherapy are recommended.
You can check the price in the price list.
Massages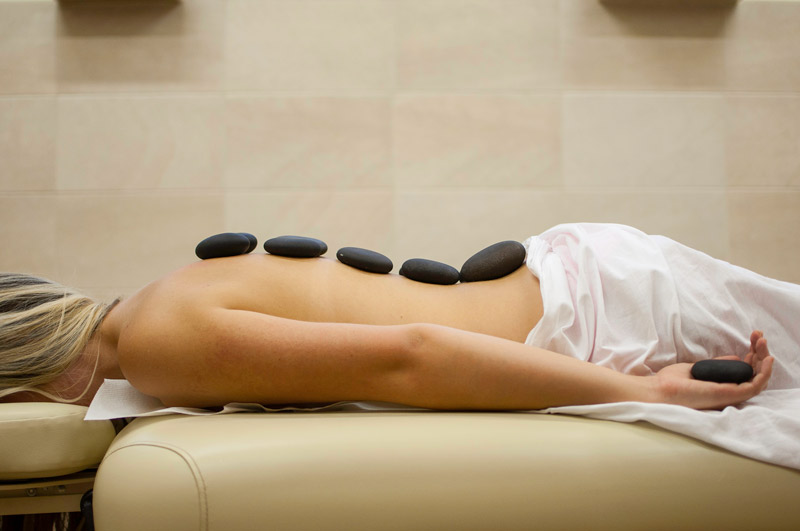 Take a moment to relax and benefit from the skilled hands of qualified masseurs who offer various types of traditional as well as specific massages.
We offer the following massages:
hot stone massage
face relaxing massage
aromatherapy massage
trigger point feet massage
honey massage
Swedish massage
Nephrite massage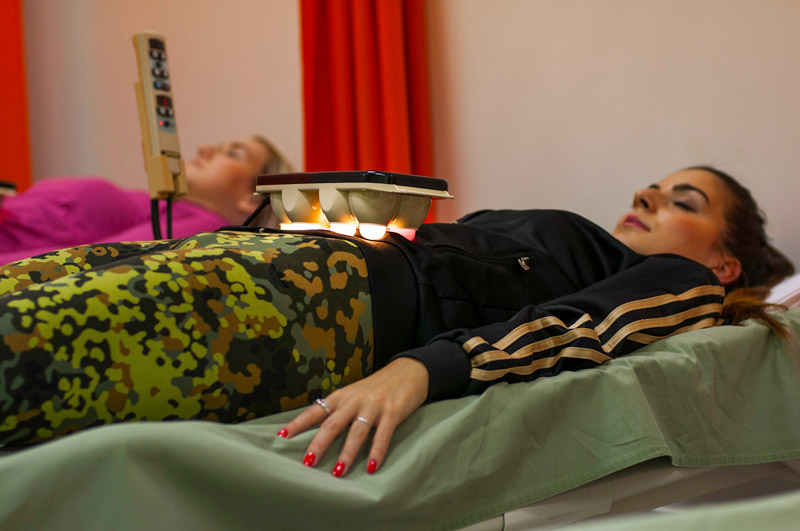 Thermal acupressure bed combines a variety of alternative medical practices: light therapy, thermal therapy, massage and acupressure. This procedure is recommended especially for the treatment of musculoskeletal disorders, back pain, rheumatic disorders, internal inflammations, skin diseases (psoriasis, eczema, pigment spots, warts), osteoporosis, asthma, allergies, chronic rhinitis, overweight, depression and to improve the patient's eyesight.
relaxes your body
boosts the immune system, rids the body of toxins, improves blood circulation
makes it easier to absorb the vitamin D into the body
accelerates muscle and joint rehabilitation after injuries
Magnet therapy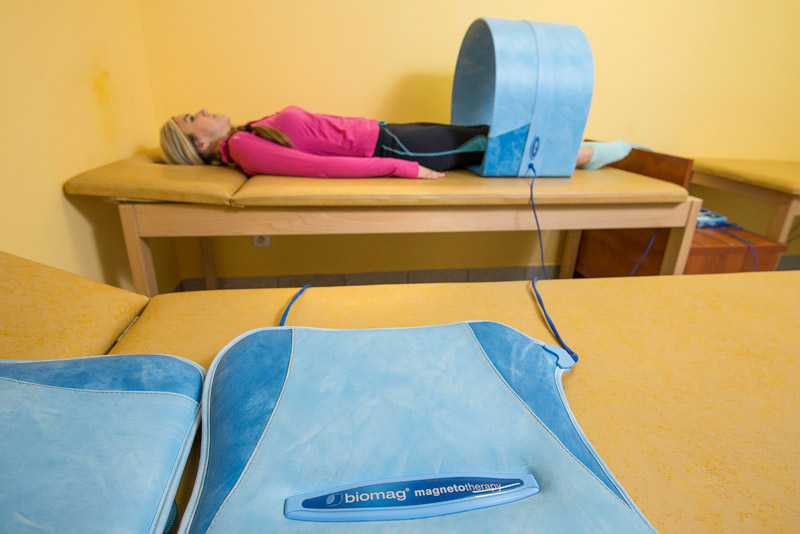 Magnet therapy is a method that involves the use of magnetic fields (electrically charged or static). These fields are able to positively biologically modify the human tissues, which can contribute to solving certain health issues.
regenerates and massages deep tissues
eases pain
stimulates metabolism
stimulates cell division
eliminates blood congestion disorders
increases oxygen supply
dilates vessels, accelerates blood circulation
helpful in the cleaning of the lymphatic system
boosts the immune system
Fitness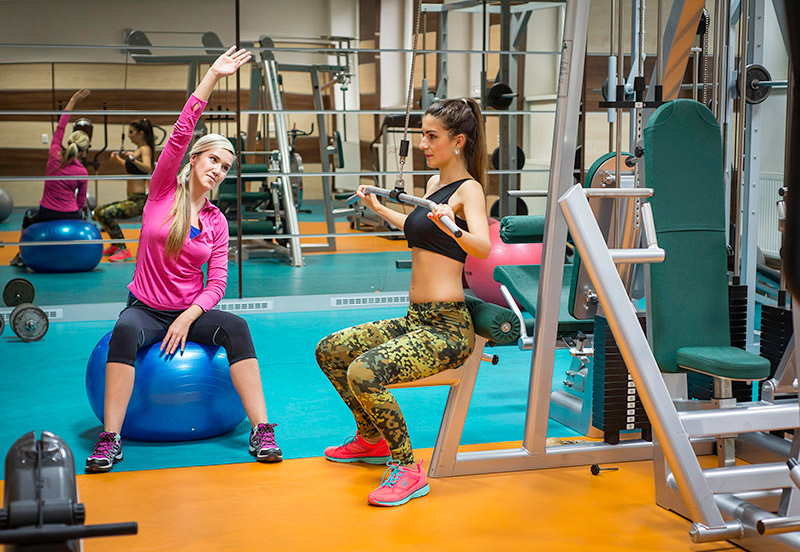 The fitness section of the Skalka Hotel offers a variety of work-out and aerobic equipment. Our guests can therefore focus on a specific body part.
You are welcome to use the bicycle trainer, the indoor rower, the treadmill, the Orbitrec elliptical trainer, the multifunctional training station, a set of dumbbells, and the multi-press machine. You will also find fitness balls, audio and video equipment at our gym.
has many health benefits and makes the body stronger and more vigorous
accelerates the elimination of harmful substances from the body
regulates blood fats
boosts the entire immune system
Due to technical reasons, the gym equipment is available to accommodated guests only.
Oxygen Therapy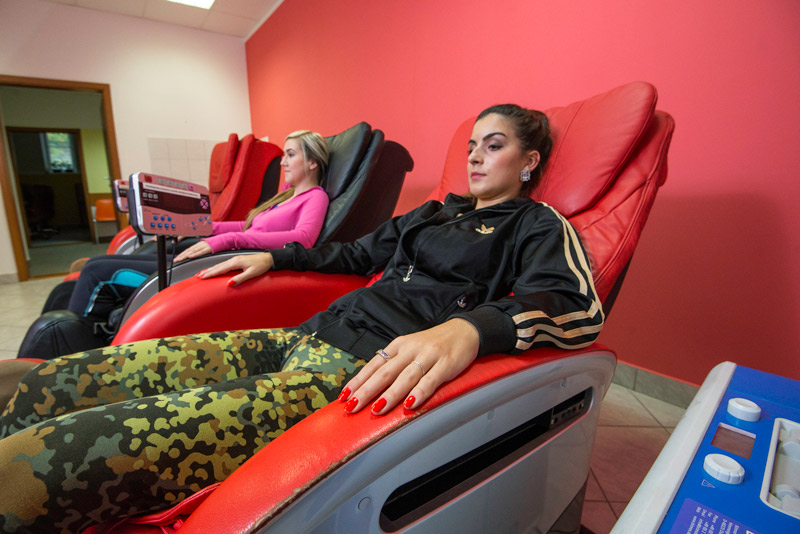 This procedure includes gas oxygen inhalation which calms the patient, improves their physical and mental condition as well as protects their body from harmful environmental influences.
improves the physical and mental condition, helps to get over fatigue and exhaustion
slows down the physical and mental ageing process
makes sure the immune system is able to fight against virus infections
perfect for treatment of respiratory diseases, asthma, bronchitis and cardiovascular diseases
improves memory, muscle and brain performance
Cryotherapy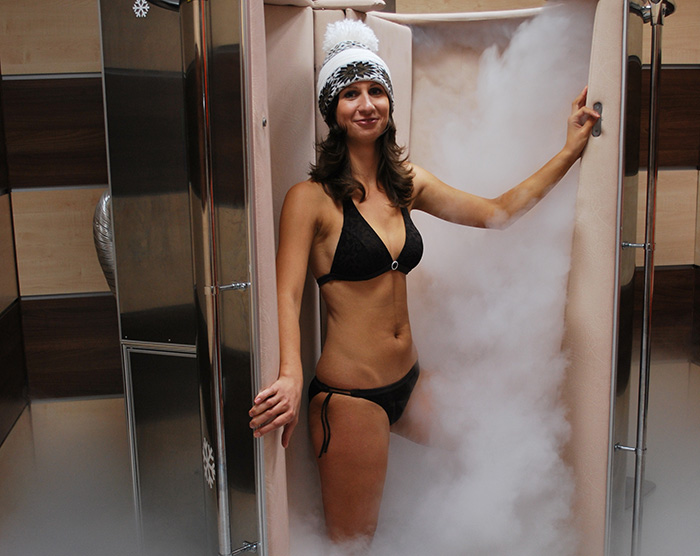 Cryotherapy is a dry procedure where the human body is being exposed to extremely low temperatures. It enriches the blood flows, the issues are stuffed with oxygen, it activates the metabolism and the body gets rid of any toxins through blood and glands.
Give cryotherapy a try if you are suffering from a skin disease, such as psoriasis. This procedure is also beneficial if you want to get rid of stretch marks and cellulite, if you want to lose weight, boost your immune system, treat depression, or to accelerate the regeneration and recovery of your body. Cryotherapy is perfect for athletes and those whose work is physically demanding. Cryotherapy is also used for musculoskeletal inflammatory diseases, back and joint pain, rheumatic disorders, migraines and secondary osteoporosis.
Duration of the procedure: 2-3 minutes
Infrared Sauna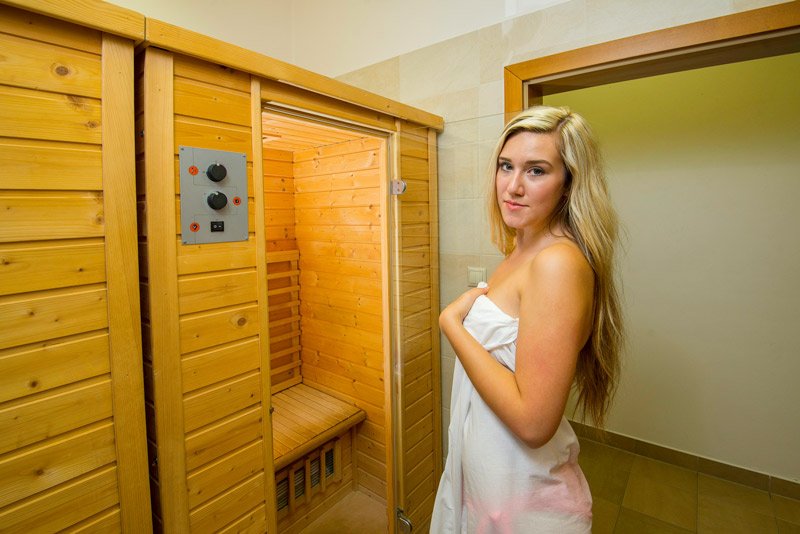 The infrared heaters emit infrared light that is crucial for the human body. It gives us our energy back and has many health benefits. It penetrates to a depth of 5 cm and the body reacts in the following way:
it accelerates its blood circulation
the blood flows through the entire body more effectively
the heart performance gets better
it accelerates metabolism
it detoxifies cells
Bioptron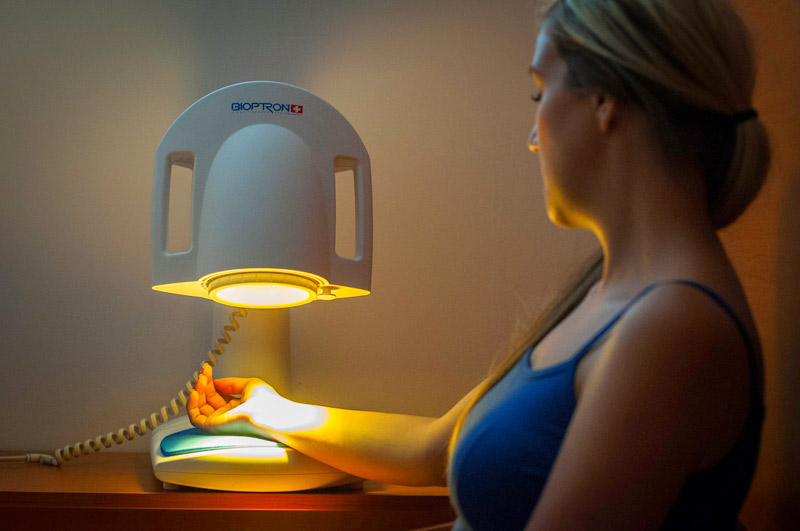 It harmonises the entire metabolism and is considered a form a biostimulation as it has an effect on the immune system, the regenerative process and all in all is beneficial to the human body.
eases and reduces pain
stimulates the whole body's regenerative processes
accelerates healing of wounds
great for dental issues and for problems with the mucous membranes of the oral and nasal cavity
gynaecological problems, pregnancy, childbirth
musculoskeletal disorders, chronic pain
skin issues
represses pain, has anti-inflammatory effects
reinforces the immune system and helps with allergies
No contraindications to this procedure have been discovered.
Recommended duration of the procedure: 5-15 minutes
Peat wrap
Peat contains a great amount of nutrients, minerals and natural trace elements that are absorbed by the human skin. It is rich in organic compounds, especially humic acid, enzymes, waxes and tannin.
pumps blood into and improves the performances of muscles and joints
accelerates the absorption of haemorrhages
helps to heal eczemas
reinforces the immune system
Hay wrap
Our disposable hay wraps are made of fermented natural hay that does not contain any herbicides and that comes from remote and unfertilized Austrian hayfields. The hay contains essential oils, tannins, lactic acids, provitamin A and vitamin D. They stimulate blood circulation and are helpful for detoxication.
Hay wraps are used as a local heat therapy and as an additional tool for the healing of the following diseases:
chronic musculoskeletal disorders
degenerative joint disorders (muscular and joint rheumatism)
arthritis, sciatica
helps to detoxify the body
Aerosol therapy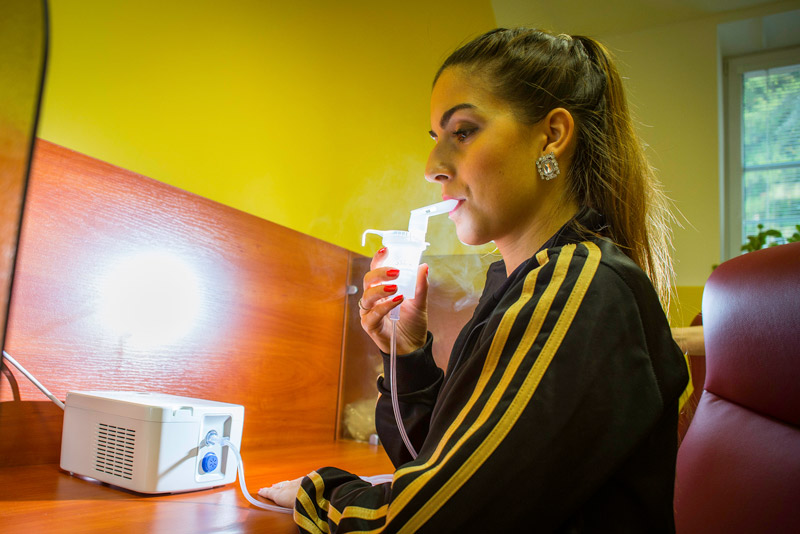 This procedure is based on actively and intentionally inhaling gases, vapours or nebulas under constant or artificially modified pressure in order to prevent and treat various breathing conditions. Inhalers are used in order to facilitate the inhalation.
treatment of breathing conditions
central nervous system disorders - brain congestion disorders, acute ischaemia
myocardial infarction prevention